Welcome to the first issue of B3nerkenswert! This issue complements the more "worldly" issue at the beginning of the month. (I wrote about this plan last time.) It's fully dedicated to everything digital and online. I hope you enjoy this new format, feedback is as always welcome!
The June issue:
Onward!
Not-judging the internet
I started to publish a photo per day with a few sentences of reflection recently. It's a simple creative frame that's fun and has enough space to grow into interesting directions.
The way the format works best for me is to pick the photos each weekend and use some online service that publishes them each day. (I use Buffer for my photo Instagram. For the series overview on my website, WordPress can do it naturally.) As I thus chose the images all at the same time, there is often a specific theme that materializes for the week.
This week is about online life/social media/smartphone use. The topic is a good start for the complementary "cyber" theme I'm aiming for with this monthly B3nerkenswert issue. If you've followed them already, just skip down to the links – or enjoy the sneak peak on the Saturday and Sunday images!
Never offline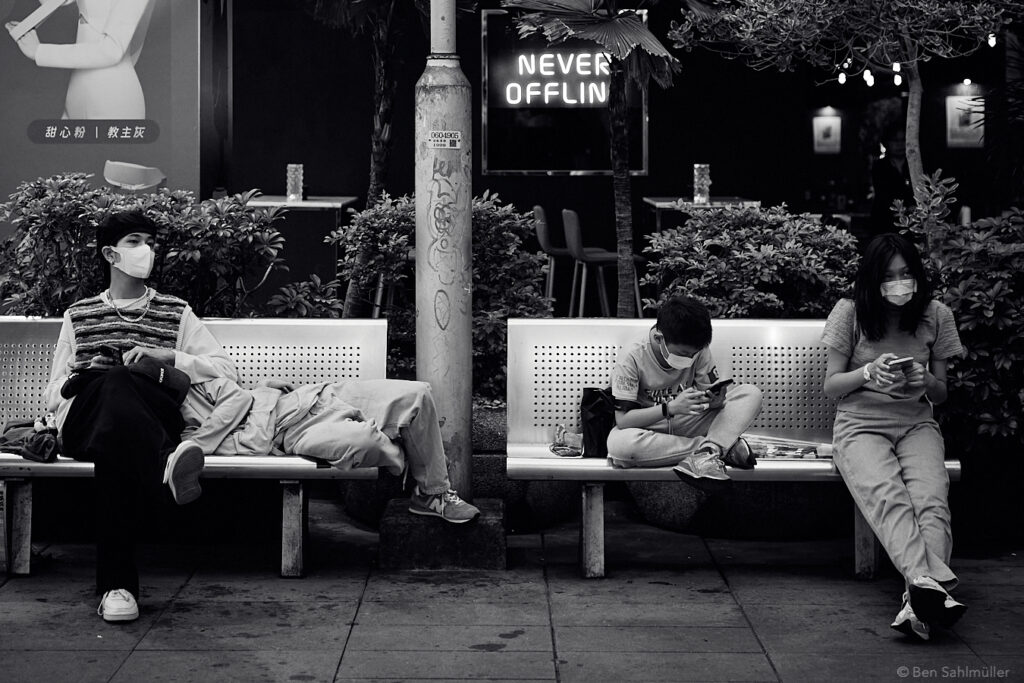 When I sat down to start picking images for this week, I quickly became frustrated. What's the point? Who cares? Does the world need the 2,812,441,282nd street photo? Why spend parts of my weekend for it. (Sure, I committed to it and can be stubborn, but that isn't necessary a good motivation…)
Then I remembered this image and… it kind of grounded me again? So that's why this week focused on its claim, "Never offline."
I like the image. At first it invites the usual critique. "Kids these days…" "No-one is talking to each other any more." Stuff like that. But the image tells a different story. Three people do have their phones in their hands, but only one is absorbed in it, an he seems honestly and actively engaged. The couple on the left is close, tender. He has certainly not forgotten her. And even the lady on the right looks out, distracted not by her phone but from using it. The image is belying the trivial impulse to pile on technology, phones, social media. So let's dive a bit deeper!
Too Online?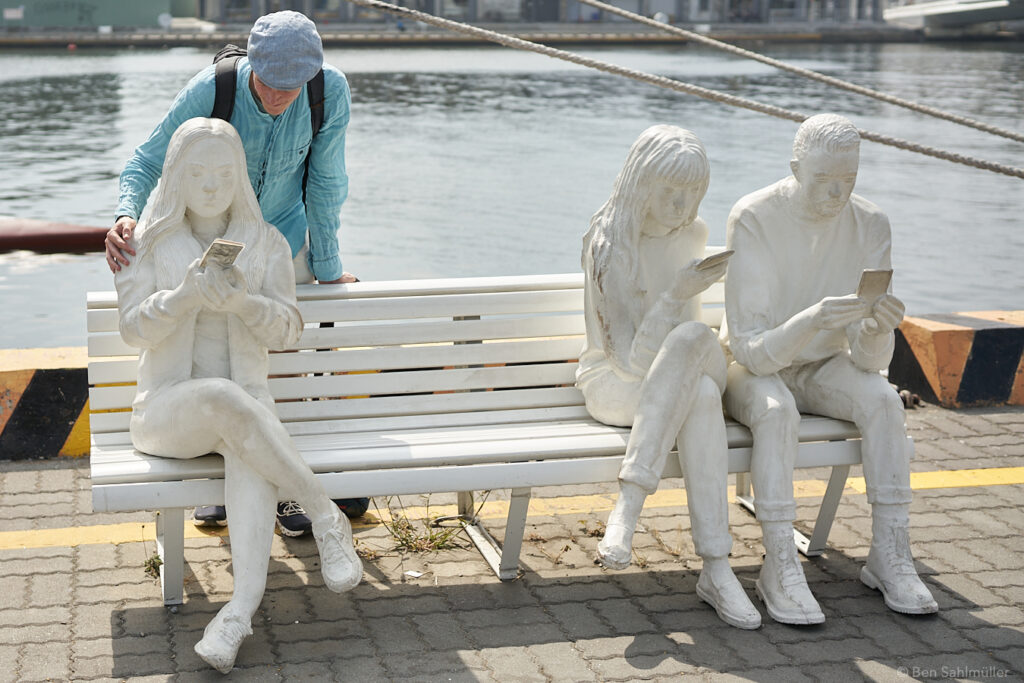 For many, being online is a big part of our life. The average person is spending hours on social media each day, even more actively online, even more staring at screens.
While there are all kinds of smart think-pieces, essays, and books about the societal consequences of this, I think that when it comes to our own life, art is the more powerful way to engage with these issues. Like this installation at Pier 2 in Kaohsiung (高雄市) – a wonderful area to stroll around!
It's a nice piece to remind us of our smartphone use (as if that was necessary!), but its strength lies in allowing us to address it ironically, in a fun way, "performative" if you want. There is a clear invitation to sit down next to the lady on the left, to interact with her (and be it by ignoring her), to take a picture of doing that. And thus, on another level, the art piece about using smartphones creates a reason to stop using them, to think while using them (of course to use them to capture all that!), and again to talk about it.
What fun!
Coming Home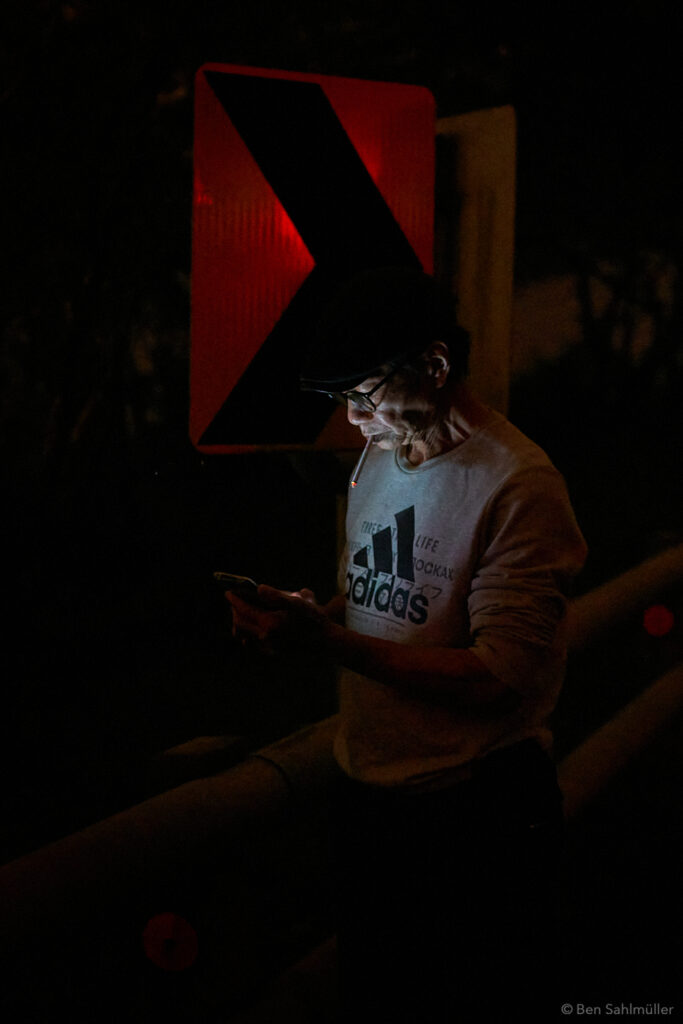 People often seem distant when they sit there with their phones, disconnected, maybe even ignorant.
What we usually don't see is what they are looking at. It's easy to forget that who seems to be under the spell of their glowing screen is sometimes just connecting to someone else, sending a short wish, showing someone they care – maybe even to make sure that they have their peace of mind to be fully there for us after they put it down again.
(The man in this picture is an old Taiwanese gentleman who now works as a driver and guide to show visitors the beauty of the island. In the moment I took the picture, he texted his wife that he'll be home soon – before sharing more stories from his life with us.)
Virtual Bubble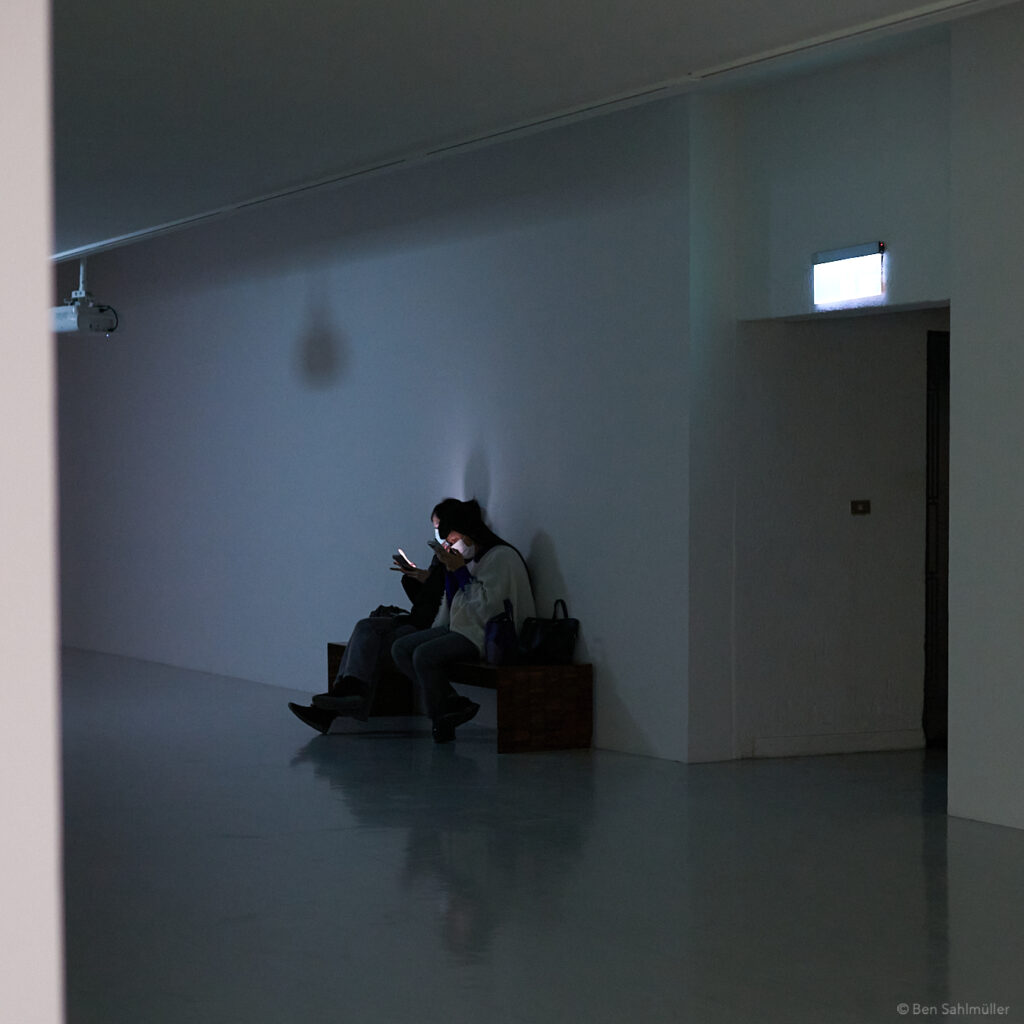 Being online in public is now commonplace, and yet, using smartphones is a weirdly personal thing. Disregarding the glimpse onto someone else's screen in a crowded tram or tube, we often have no idea how other people are using their phones.
This also means that we carry a portal to our very personal bubble with us that we can summon by the click of a button or a swipe over glass. It's a place to calm down, to recharge, to maybe overcome our irritation, anger, or anxiety – be it by sharing our feelings with someone we love, finding a joke that amuses us, or just by distracting us from our train of thought. We often blame "addiction" for our smartphone use, but when we are honest, we often know fairly well what kind of app, platform, or behavior will help us in a given moment. (And also when we should better stop scrolling and check in with reality again.) What is more, our smartphones often really help us regulate our emotions, even when ads and outrage make this less effective than it could be in a perfect world.
Being together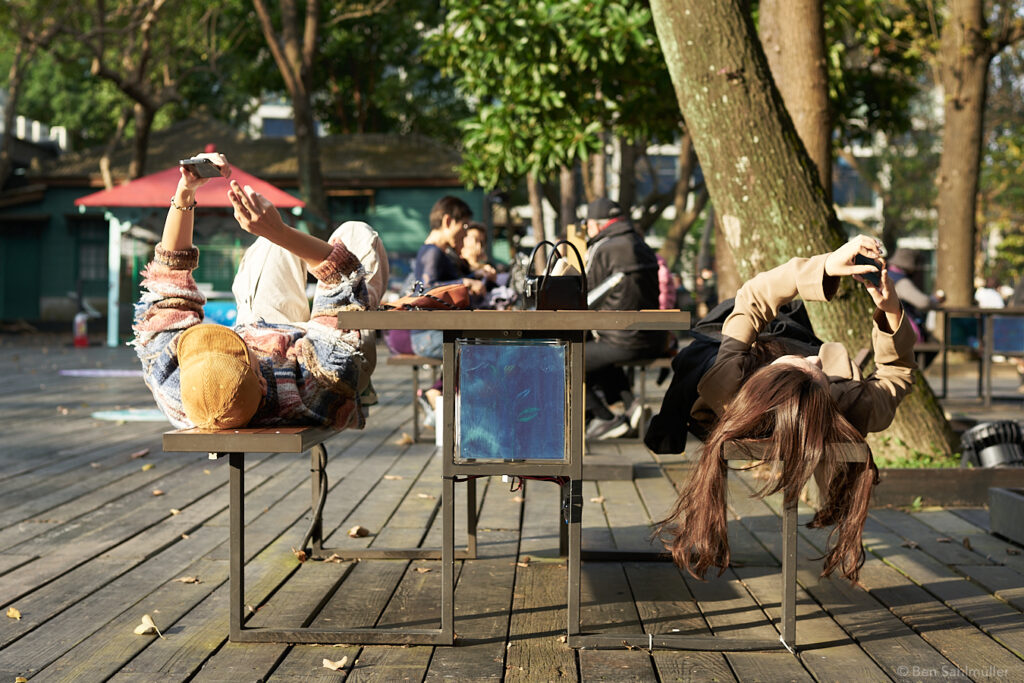 Seeing the internet as a space to go to means to think that people who are online around us have left completely for some place else. If that's the case it is indeed rude to hide in the virtual bubble from one moment to the next. But it's not necessarily true. We can be online together, not only be taking a photo of each other, but by laughing, reading something out loud, sharing stuff back and forth – or just by lying on the same couch and playing with each others feet while scrolling and swiping around.
Is is the same as having a conversation? Of course not! But is it so much different from reading a book next to each other? (…a rhetorical question…) Maybe the most important part is to see the act of taking out a smartphone not as independent of a social situation, but it as part of it – with all the responsibility that entails.
Mindfulness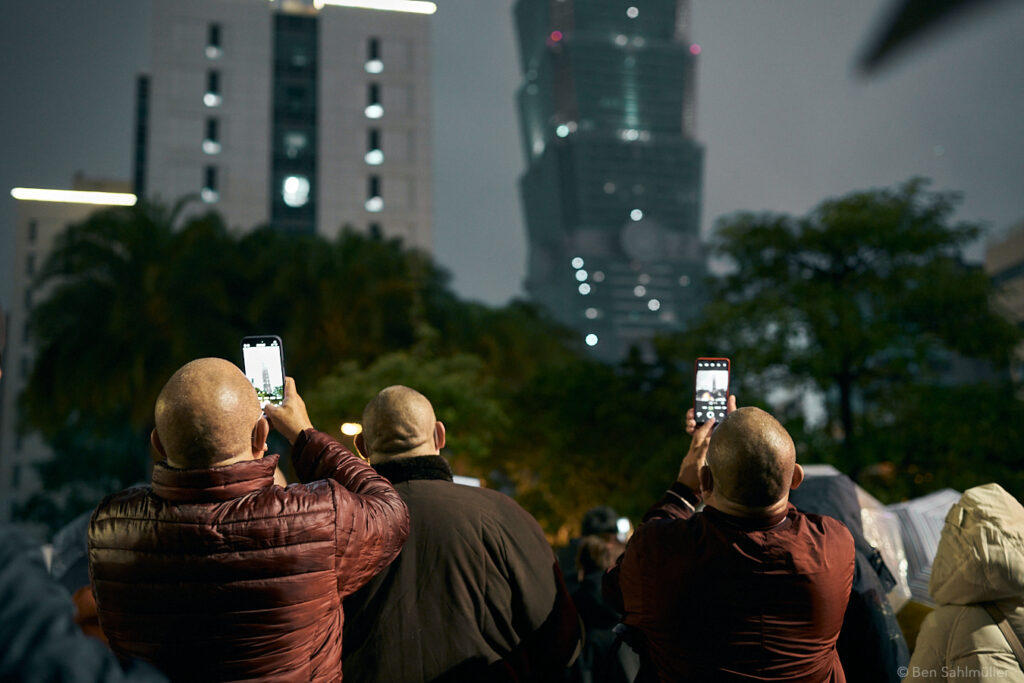 "Have the monks stopped meditating? They all seem to be tweeting." These words echo at the end of the trailer of Werner Herzog's documentary "Lo and Behold, Reveries of the Connected World." (An overall rather mediocre work.)
Indeed, nothing seems farther away from a mindful life than to mindlessly bend over a glowing screen while almost walking into a street lamp. Images of smartphone-using monks thus have something ironic about it. But why? Monks too have family and friends and have to connect some way. There is no principal difference between being absorbed in a screen instead of a holy scripture or a prayer. After all it might be the Bible you are reading. So if we can be attentive around religious rituals, shouldn't there also be a way to use the internet mindfully?
Maybe the idea that a mindful life and internet use are complete opposites comes less from actual Buddhist monks and more from Western mindfulness coaches and yoga teachers. To me, selling a digital detox workshop on social media seems equally ironic as a tweeting monk – and equally fine.
All these are dilemmas we have to live with these days, and maybe getting lost in vague generalities instead of living life and these questions from one moment to the next is the biggest obstacle to mindfulness and inner peace.
Offline Together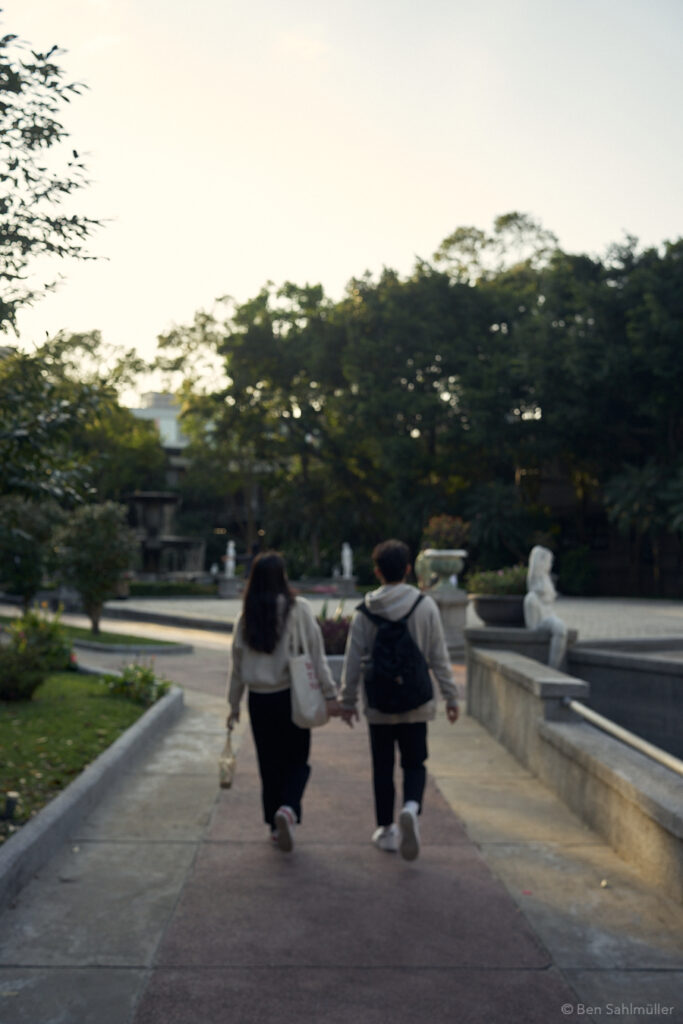 This week was dedicated to a gentle look at those habits we (and I!) are often very self-critical about.
I've gotten tired of moralizing the use of technology, and I feel moralizing is often a distraction. Social media, smartphones, the internet, all that – in the end it's not as important as we make it, and of course it's neither bad nor good. Like with everything else, we have to take responsibility for our actions and only then can we change them. In the end, this is liberating.
Once we look clear-eyed beyond moral assumptions and what our technological marvels gift us (immense power, but also: ads and propaganda), we can also see what they cannot give us. At last and always, it's emptiness they cannot provide – and this will get more true with every new feature. Being empty of the opinions of others, the itch to read, watch, listen, consume ever more. Being empty of our selves.
In the end, the internet is always more in our heads than hands. So let's leave our phones at home and grab our loved ones, our camera, or a bottle of water and head out! Into the only place that can be smelled and touched, that feels like more than glass.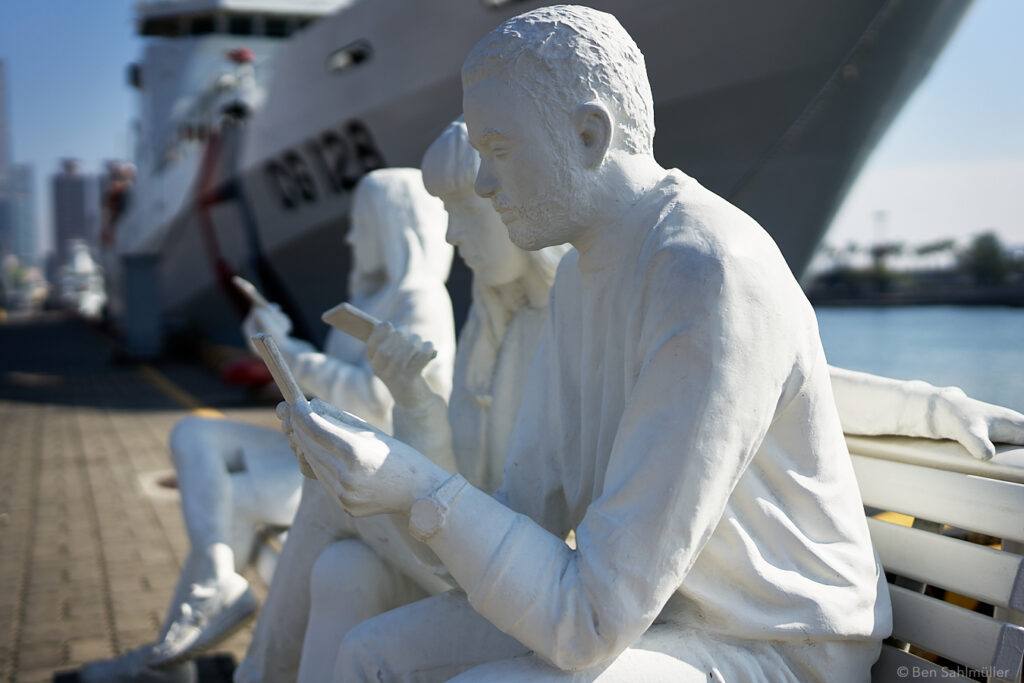 Links
Oh dear, you can tell that I didn't share this list for a few months. Just get lost whatever way you like 🙂
Taiwan & Greater China
Science
AI
Politics
Beauty & Fun