The art and science of leadership and change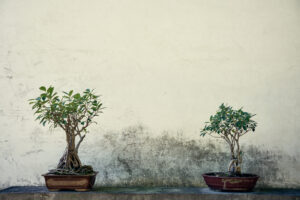 For over a decade, I am slightly obsessed with questions about organization and leadership and how the way we deal with change changes through modern technology. In my research, I learned that leadership, taken seriously, requires careful thinking and a truly interdisciplinary approach. In my own leadership positions, I realised that taking responsibility in a group is first and foremost an art, deeply embodied, personal, and contextualised. It transcends theory, is playful and paradoxical, messy, and alive. Bringing both experiences together, I work with leaders who want to steer change, solve messy problems involving people, and grow themselves and their organization.
I think of clients as partners and typically work with few of them for extended periods. My rather uncommon background – bridging science and practice, mathematics and psychology, for-profit and not-for-profit work – allows me to look at complex situations from many angles and to often find creative and uncommon solutions. My role during an engagement depends very much on the specific challenge and organization and might change over time. To get an idea, here are four different frameworks I have worked in.
Solving wicked people problems
Leaders, executives, and founders often face situations in which the main challenge is not technical, but social. Questions might concern direct leadership of subordinates or towards supervisors, team culture and processes, politics and power, or personal issues of performance, motivation, or even resilience. Such challenges are not uncommon even later in a career, but they amount after switching roles or starting in a leadership position for the first time.
Sparring sessions allow to analyze the current situation with a fresh perspective, dive in on the core problem, and strategize about a pragmatic solution. Ideally, situational sparring is like bouncing balls off a trusted friend, quick, spontaneous, goal-directed, and hopefully even fun. In a variation, sparring might occur over a concentrated period of time where I accompany a leader to quickly pick up speed on the people-side of things. Having such an independent "wing-man" is helpful especially for leaders with a more technical background, looking for a fast take-off after taking over a new leadership position.
Personal development
After getting used to their authority and collecting an initial set of tools, habits, and mental frameworks, executives often come to look for a more integrated understanding of leadership. On the one side, this is an intellectual challenge, as complex problems ask to link insights from psychology, game theory, systems thinking, and other areas with knowledge from business and economics. Yet even more so, it is a quest of self-development, as more and more problems trigger very personal and rather philosophical questions of personality & self, goals & legacy, social ties, ethics, and personal growth.
"The integrated leader" addresses the challenge of leadership development in the spirit of positive psychology, aiming to unlock inner strengths and a resonant authenticity. Recurring coaching sessions create space for deep-dives that are linked not only to short-term solutions but long-term development. Building on my background in the hard and soft sciences just as my practices in musics and a long passion for philosophical questions, these sessions aim to build a personal leadership mindset grounded in rationality and science, ancient wisdoms, as well as embodied presence and authentic expression.
Team development
Teams are often the center of work and life in organizations, be it product or project teams at the base of the hierarchy, or top-management or founder teams at the top. Yet, while not only CEOs but every team leader has to focus strongly on the organization and its environment, teams themselves often lose their mojo to dusty rituals, challenging deadlines, and in view of changing members.
Team in(ter)vention and take-off aims to rebuild trust and to re-ignite the joy to create something together. Starting within the existing hierarchy, these engagements usually aim to look for ways to share leadership more broadly in the team and to use its full creative potential. While distinct workshops and retreats can take an important part in the process, personal coaching sessions, workshops, and smaller interventions as well as inventions lie at the core of this process, changing the team fabric one step at a time.
Organizational development
Change and acceleration not only dominate the daily life in startups, but are the new normal in almost any organization that tries to build resilience, adapt to an ever-shifting environment, and stay innovative. For founders and executives, this means to drive initiatives and navigate a shifting political landscape while still focusing on their performance goals.
"Leading in complexity" is a framework that allows executives to make sense of the various challenges they face during a complex campaign of organizational change. Analysing risks and creating alignment are just as important as building the right narratives, empowering others, fostering serendipity, and staying sane. Leading in complexity is systemic and multi-layered, connecting individuals, teams, the organization, and its environment. Usually starting with strategic consulting of a team in charge of the change campaign, the process often shifts to facilitating workshops, mediating decisions, and designing campaigns for capacity-building.
A companion for you and your organization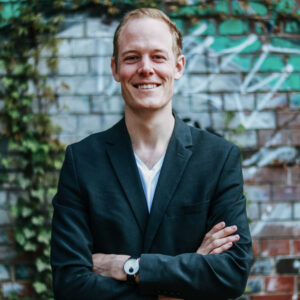 A trusted working relationship is at the core of my work, getting to know each other at its beginning. Please reach out if you are interested to work with me.
Engagements usually start with a workshop to create clarity around the situation and how to attack it. I work on problems that are at their core social, mostly new and wicked, too complex and context-dependent to be solved with mere boilerplate solutions. While slides and analyses might play a part to understand the problem, you mainly hire me as a partner with whom to design and implement the solution.